Description
Go to the next level with your training. Aimed at the experienced practitioner who regularly performs Botulinum Toxin injections and Dermal Fillers in clinic, but would like to expand their portfolio to include more advanced techniques. Delivered by Dr Bibi who is an experienced doctor and Advanced Aesthetics Practitioner, this is also the perfect course for those already practicing advanced techniques to top up their knowledge. Be one step ahead of your competitors, with updated techniques and products offering much more choice to your patients in an evolving cosmetic industry.
Many delegates often do not complete advanced training, and with vastly growing numbers of nonsurgical aesthetic procedures, completing this advanced training will not only put you ahead of your competitors, but will also make you more employable in the eyes of big corporates! This course is designed to keep you updated with the newest products and techniques in today's rapidly evolving cosmetic industry so that you can offer more to your patients. Delegates should be comfortable with the foundation techniques and ready to take their clinical skills to the next level.
Once again, comprehensive demonstrations and in-depth hands-on training by highly experienced practitioners will be provided. More time will be allocated to practice than theory, due to the sheer number of procedures that will be covered. At Skin Senses, high-quality training is of paramount importance, so small groups and full guidance will be given to make sure you leave our rooms confident and ready to practice freely.
Why choose us?
Led by Medical Doctor
Lifetime support
Business Advice
Meet the expert
Dr Chand Bibi, clinical director of Skin senses London Training Institute and Skin Senses Kent Treatment Clinic, is a fully trained and experienced medical doctor and is specialised in non-surgical Aesthetic rejuvenation. She has been practicing medicine for over 20 years – being a full member of GMC, the Irish Medical council and the Royal College of Obstetrics and Gynaecology Uk.
With about two years of experience in Cosmetic Medicine, Dr Bibi has extensive knowledge of facial anatomy and physiology along with her understanding of details of facial symmetry and proportions. She has performed hundreds of treatments such as: Anti-wrinkle treatment (Botox), dermal fillers (Juvederm, Restylane, Beletero, Radiesse) and skin boosting treatments.
Dr Bibi is committed to client safety as-well as providing high quality, aesthetically-pleasing physical results, that's benefits their psychosocial life As well . Her drive to enhance natural beauty that everyone has within, by combining her years' worth of medical practice with her artistic mind and skillful hands, proves her commitment to high standard of facial aesthetic practice to the clients' satisfaction.
Payment options
Full Payment via Paypal
By making payment in full, you can secure your course place and enjoy the greatest flexibility to book all of your training days at your preferred training centre, in the best way to suit you – Book securely online 24/7 on check out.
PayPal Credit on Course(s) over £99 – Interest Free for 4 Months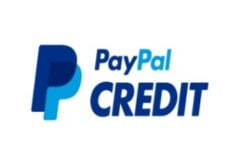 PayPal Credit allows you the option to spread the cost of any course(s) totalling £99 or more over 4 months with 0% interest*.
It's quick and easy to apply for PayPal Credit – all you need to do is select the PayPal Credit option when completing your order and this will prompt you to complete a short application form.
PayPal give you a decision instantly. If approved and you accept, you'll have a credit limit attached to your PayPal account to start using straightaway allowing to spread the cost of your training.
Book your training & pay quickly and conveniently,  all with the security and peace of mind of using PayPal (PayPal Buyer Protection provided for eligible purchases).
PayPal provide paymemt reminders and you can manage your PayPal Credit account easily online, on mobile, tablet or desktop.
___________________________________________________________________________________________________
Representative Example: 19.9% APR (variable). Purchase interest rate 19.9% p.a. (variable). Assumed Credit limit £1,200. This example illustrates the typical cost of using PayPal Credit as a standard funding method. If you take advantage of our offers and promotions, including our 0% for 4 months offer, the interest rate that applies will be lower in many circumstances.